Legacy Life membership enables VFW Life members to leave a lasting impression on our great organization.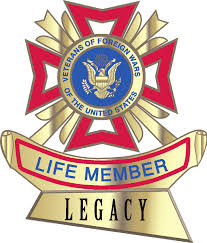 When you become a Legacy Life member, you are helping us strengthen the VFW – where NO ONE DOES MORE FOR VETERANS.
Three prestigious levels of Legacy Life membership are available: Gold, Silver, and Bronze.
Each level offers generous benefits reserved exclusively for Legacy Life members.
Once your Legacy Life membership begins, an annual endowment in your name will be made to your Post, Department and the organization. You will feel confident knowing your contributions to our organization are not only helping today's veterans but the veterans of tomorrow.
You may also purchase a Memorial Legacy in the name of a deceased VFW Life Member to help future generations know and remember their sacrifice and contributions. Simply fill out the attached acceptance form and return it to the address provided.
For any questions regarding Legacy Life membership, please contact the VFW Member Service Center at 1.833.VFW.VETS. We will gladly provide you with more information on this prestigious and rewarding membership.
.